About Us
Focus Driving School has been set up by Ben Eliot who has many years experience as a Driving Instructor in Cairns. Focus is a family owned and operated business.  
Ben studied at St. Augustine's College and attended James Cook University where he completed a Bachelor of Arts Degree with a major in Human Services. Previously Ben worked in communications, sales and marketing for both national and international companies.
Ben loves working as a Driving Instructor and gets a real 'buzz' when his students pass. Probably one of the youngest driving instructors in Cairns, Ben is intent on building a successful business.
Although Focus Driving School is one of the most competitively priced driving schools in the region, Ben remains committed to delivering outstanding professionalism and service.
Cairns Driving Instructor Ben can be contacted direct on 0458 700 008 or call the Focus office on 0432 106 081 OR complete the bookings form online – it's easy.
*Note: If you choose an automatic, you may only operate an automatic vehicle. Any new vehicles which you rent or buy must be automatic as well. If you want to drive a manual car in the future, you would be wise to learn on a manual which automatically allows you to drive both kinds of vehicles.
Bookings
Booking your first lesson with a professional driving instructor … Call Ben 0458 700 008 or Focus Driving School Office on 0432 106 081. We will always endeavour to return your call within the hour.
Please be advised Focus price as of the 1st November 2019 will be $60.00 per one hour lesson or $280.00 for the Prepaid Power Pack (5 x one hour lessons).
Call Ben on 0458 700 008 or our office on 0432 106 081 or use the booking form below to book your lessons while it's $55.00 per 1 hour lesson or $260.00 for the Prepaid Power Pack!
| | |
| --- | --- |
|  Lessons |  Prices |
| Prepaid Power Pack (5 hrs with a professional instructor equals 15 hrs in your logbook) |  $260 for 5 x 1 hr lessons |
|  1.5 hrs lesson |  $80 |
|  1 hr lesson |  $55 |
|  1 hr Night lesson (6pm onwards) | $65 |
| Test – 1 hr lesson plus hire of Focus Driving School vehicle for test | $110 |
Payment is due prior to each lesson/s either in cash or by EFT.
Order a Gift Voucher as a gift to a friend, relative or even yourself!
Why Focus?
Your safety is our business, we have the necessary:
Business and Public Liability Insurances
Blue card and Police clearance.
Our Instructor/s also undertake a Defensive Driving Course.
Ben drives a Mazda Sports Hatch with low mileage which is well maintained on a regular basis.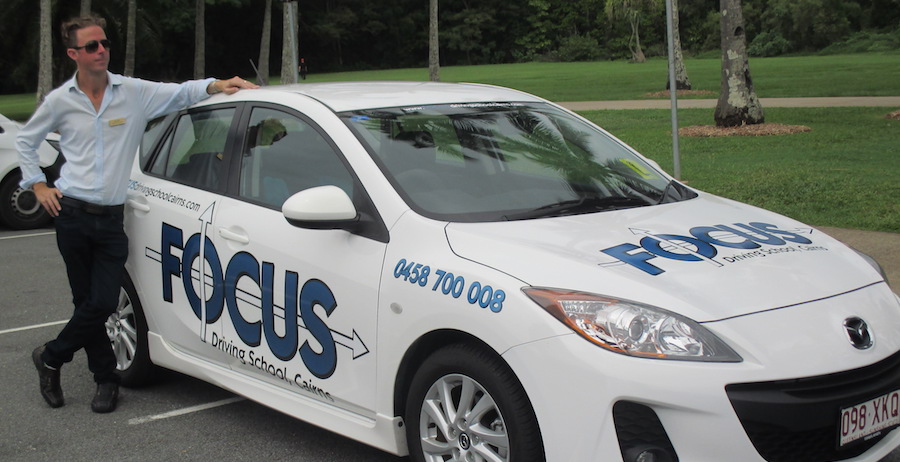 Why Focus – Because that's what you've got to do to learn how to drive properly